About Our Camps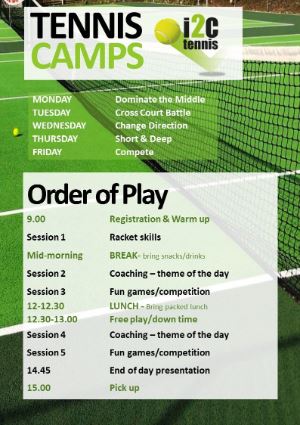 All i2c holiday tennis camps offer a combination of great coaching, fun games and activities and competition in both tennis and other sports. Tennis camps are a great way to engage children aged 4-16 with the sport at your local club.
Children stay active and healthy while having fun with their friends in a safe environment.
Book a holiday camp
We offer both full day and half day enrolment. Day and week booking options are available with great discounts for early payment and full week bookings.
All equipment is provided; just ensure that your child is wearing suitable clothing for the weather! Children may need to bring suncream or waterproofs with them depending on the time of year. We always do our best to ensure that camps go ahead regardless of the weather. You will be advised if camps have to be cancelled.
Please note that children under the age of 5 cannot do a full day session but are welcome for the morning sessions.
Children should bring:
Labelled packed lunch
Drinks in a sealed container
Suitable clothing for the weather conditions
Suncream
Any inhalers needed
What parents and guardians need to know:
Please make all bookings online
Children must be signed in and out by a nominated parent/guardian
All coaches are LTA accredited with valid DBS and First Aid certificates
Wet weather: Our camps generally run regardless of the weather! You will be advised if camps have to be cancelled
We need a minimum of 6 children to run a camp. If there are fewer than 6 players we reserve the right to cancel. This will be done with minimum notice of 48 hours. All monies paid will be refunded or transferred
Cancellations: If you wish to make a cancellation, please do so within 2 working days of the day you wish to attend, before 5pm. We schedule staffing according to numbers, and if you fail to cancel in good time then we regret that the full amount will be charged